On June 23rd, 2019, Dimed Laser Technology announces the release of Harlas Surgical Laser Equipment. This brand-new surgical diode laser will help doctors to treat multiple kinds of diseases with an easy user experience and good therapeutic effect.
With Dimed Harlas surgical laser equipment, doctors or veterinarians can perform deep tissue therapy, PLDD treatment, EVLA (Endovenous Laser Ablation), skin lifting, superficial fat reduction, ENT laser treatments, pet laser therapy, etc. more effectively. It is another milestone product of Dimed Laser and also the medical market.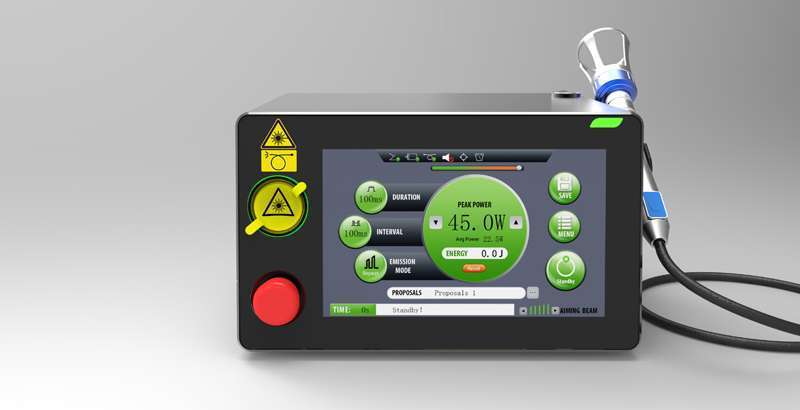 Features Of Harlas Surgical Laser Equipment
1. Intuitive and User-friendly Interface
Harlas surgical laser has been designed with pure flat tempered glass with a seven-inches color screen which is of high resolution and sensitive touch experience. It has a built-in advanced software system and a user-friendly interface, easy in switching operating modes and custom settings.
2. Textured Material with Modular Design
Harlas surgical laser is specially manufactured with an aluminum alloy house that is durable, waterproof, and scratch-resistant, and its exterior exudes a sense of texture and luxury. It has a small modular design with high-quality parts and components.
3. Various Wavelengths Provided
Harlas surgical diode laser provides multiple kinds of wavelengths, including 650nm, 810nm, 980nm, 1064nm, and 1470nm, supporting different types of disease treatment. According to the practical application requirements, doctors can easily choose power, wavelength, pulse duration, operating mode and etc. via several easy taps on the screen.
4. Suitable for A Variety of Medical Laser Treatments
Harlas surgical laser is rich in functions that can be applied for various treatments such as deep tissue therapy, laser therapy pain relief, laser therapy for varicose veins, skin tightening, superficial fat melt, rhinitis treatment, nasal polyp treatment, ear and throat laser treatment, veterinary laser surgery and therapy.
5. Providing A Complete Set of Accessories
According to the various surgical and therapeutic application needs, Harlas surgical laser system has been equipped with a full set of accessories such as a fiber cutter, fiber, surgical handpieces, therapy handpieces and etc.
If users want to learn more features and technical specifications of Harlas surgical laser, please go to the official website of Dimed Laser: https://www.dimedlaser.com/harlas
About Dimed Laser Technology
Wuhan Dimed Laser Technology Co., Ltd. is an innovative medical laser manufacturer dedicated to bringing safer and better surgical and therapy laser products to hospitals and clinics. The company has extended its business worldwide and its products have been successfully applied in many countries all over the world. Due to its persistent innovation, Dimed Laser products have been highly recognized in the past three years. For more details about its products or services, please visit dimedlaser.com.