Laser is now universally accepted as the most advanced technological tool in various specialties of surgery. However, the properties of all lasers are not alike and surgeries in the ENT field have advanced significantly with the introduction of Diode Laser. It offers the most bloodless surgery available today. This laser is especially suited for ENT works and finds application in various aspects of surgery in the ear, nose, larynx, neck etc. With the introduction of diode ENT Laser, there has been a significant improvement in the quality of ENT surgery.
Applications Of ENT Laser Equipment
Diode lasers have been used in a wide range of ENT procedures since the 1990s. Today, the versatility of the device is limited only by the knowledge and skill of the user. Thanks to the experience built up by clinicians over the intervening years, the range of applications has expanded beyond the scope of this document but includes:
Nasal polypectomy
Turbinectomy
Ethmoidectomy
FESS
Excision of laryngeal tumors
Incision of pseudo myxoma
Vaporisation of leukoplakia on larynx
Chordectomy
Vaporisation of papilloma
Removal of polyps
LAUP
Vaporisation of oral tumours
Tonsil reduction
Glossectomy
Advantages Of Dimed ENT Laser
Precise incision, excision, and vaporization, with microvascularhemostasi
Predictable, reproducible laser-tissue interaction
Minimal thermal damage for excellent tissue margins
Smart margin management and minimal healthy tissue loss
Minimal disturbance to structures, nerves, and tissue
Improves procedure sterility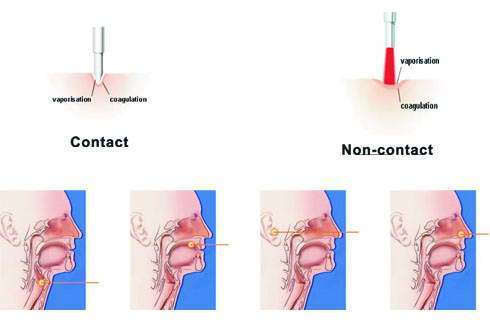 A Complete Set Of Handpieces
To complement your fiber you will need to select from our reusable autoclavable handpieces. These are designed to aid access to the treatment site and provide precise control of the fiber tip. Each handpiece is designed for optimal results in different applications, as described in the table below.
The malleable cannula can be formed to the desired shape to suit the specific needs of a surgical procedure.
Straight ENT Handpieces(15*165mm)
Replacement ENT Handpieces-1 60mm
Replacement ENT Handpieces-2 80mm
Replacement ENT Handpieces-3 100 mm
Replacement ENT Handpieces-4 150mm
Replacement ENT Handpieces-5 200mm
Replacement ENT Handpieces-6 250mm